Barclays approached us to do a direct mail piece for their billion-dollar arena in downtown Brooklyn. This arena would become home to the borough's first major professional team since the Dodgers left for Los Angeles over 50 years ago. We did a piece that sold their All-Access Pass quite successfully.

But that's just the beginning of the story.

In positioning the concept and its language, we changed the name. From Barclays Center in Brooklyn, to Barclays Center of Brooklyn. That moment was critical as it launched us into a voice and emotion of inclusiveness. It allowed us to position the Nets and the arena, as the property of Brooklynites.

Not long after, we became agency of record for the Barclays Center of Brooklyn and the Brooklyn Nets. Then, we did did social activations, digital, branding and tactical all over.



Print





ONE DAY MAJOR PROFESSIONAL SPORTS WILL RETURN TO BROOKLYN.
One day is finally here. Be a part of it by getting your NETS All Access Pass today.

877 77 BKTIX *centerofbrooklyn.com









Direct Mail - All Access Pass

Constructed as premium multi-fold piece with embedded cellphone well. Phone programmed for direct call to All Access Pass sales center.

The alternate design included the All Access pass in the well.


it reads:

*The Center Of Brooklyn.
In the Summer of 2012, Brooklyn's entertainment renaissance will officially begin with the opening of the Center of Brooklyn. Home to the Brooklyn Nets, America's first billion-dollar arena will be a state-of-the-art, multipurpose venue located at Atlantic and Flatbush Avenues in the heart of New York City's most dynamic borough.

Every seat is a great seat, but we're saving the best for you.
The Center of Brooklyn is defined by sophistication and luxury. The clubs and lounges enhance your entertainment experience with elegant design, countless flat-screen televisions, and gourmet food offerings that provide the perfect balance of skybox luxury and courtside intensity.

Make history. Make the call.
Your Brooklyn Nets season tickets will provide all of the exclusive benefits of the NETS All Access Pass. New York's newest landmark, The Center of Brooklyn, will play host to over 200 live entertainment and sporting events each year and you'll be up close and personal, with service that is second to none.

All you have to do is press 'SEND' and we'll take care of the rest.

OPENING SUMMER 2012



Out Of Home - Various Event Categories




Brooklyn Boxing.
Get knocked out in Brooklyn.
Get so close to the action you can feel every punch. Visit barclayscenter.com to learn more.

Brooklyn Shows.
Standing ovations are the only kind in Brooklyn.
Watch a sold-out show like it's a private performance. Visit barclayscenter.com to learn more.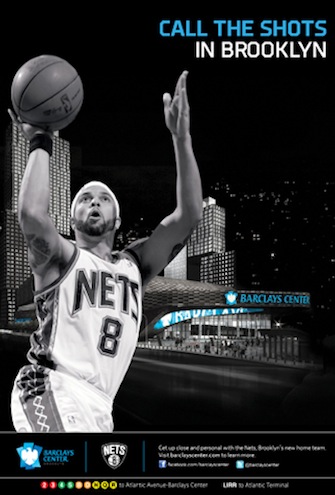 NETS
Call the shots in Brooklyn.
Get up close and personal with the Nets, Brooklyn's new home team. Visit barclayscenter.com to learn more.




World-Class sports and entertainment is back in Brooklyn.
Be there when the world's finest in sports and entertainment arrive at Barclays Center this September. Visit barclayscenter.com to learn more.